Exclusive representative of Novikontas in Georgia

Meridian Maritime Training Centre is an exclusive representative of Novikontas in Georgia. In the scope of an exclusive contract between the parties, Novikontas provides Meridian with syllabuses of 34 conventional training programs and ensures its periodical updates.
Furthermore, within the scope of an exclusive partnership, Meridian customers have the ability to be trained jointly, by Novikontas and Meridian instructors in all remained conventional and inhouse courses which is provided by Novikontas. Please find the full list here.
Novikontas Maritime College is a private educational and training institution governed by the Laws of Latvia, with a main goal to provide efficient and useful competence gaining and attitude development for those who work at sea or plan to start carrier at sea. Novikontas is one of the five the most equipped and successful training centres in the world.
Partnership between Meridian and Novikontas is first step forward for the development of the maritime field in Georgia.
Wärtsilä is the main provider of Meridian

Wärtsilä ensures Meridian with the modern simulators and periodical software updates within the scope of the contract between the parties.
Wärtsilä is a global leader in smart technologies and complete lifecycle solutions for the marine and energy markets. By emphasizing sustainable innovation, total efficiency and data analytics, Wärtsilä maximizes the environmental and economic performance of the vessels and power plants of its customers.
At the moment, Meridian is equipped with the navigational and engineering simulators specialized on conduction of the trainings in the environment close to the reality.
Detailed list of the simulators you can find here.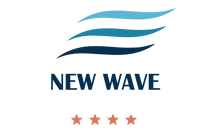 Meridian has developed a Meridian "Club" Card system which is a special card granted to the customer by Meridian LLC with the aim to proceed with mutually beneficial marketing. In particular, the Meridian "Club Card" Member will gather the scores by paying for particular training programs in Meridian, in this regard, the customer will have the information about the scores gathered and it will have the ability to receive the service from our partner companies with discounts.
One of our partners is "New Wave Hotel Batumi". A cooperation agreement was signed between the parties.
As part of the partnership, Meridian Club Card members receive the highest quality services at the hotel, restaurant and fitness center in New Wave hotel
The New Wave Hotel Batumi is a modern, elegant hotel overlooking the Black sea, perfect for a romantic, charming vacation. Our guests have a great opportunity to meet companionable staff and snug area!
Meridian appreciates the partnership with New Wave.